Looking for a Ford Wrecker in Newcastle or surrounding regions? We have your covered.
Not only do we have a wrecking yard for Ford but also for Toyota, Nissan and numerous other makes. So you can come to us and find spare parts for your broken down vehicle.
To keep our wrecking yard stocked, we are active in the process of buying unwanted Fords and other makes. All vehicles that are not used on our scrapyard are recycled as scrap metal to ease on pollution.
So feel free to come to us for spare parts for your Ford or to sell your old Ford too.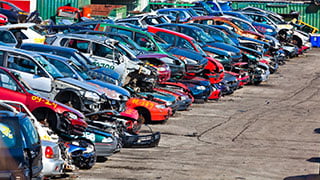 Ford Spare Parts
Need a spare part for your damaged Ford? We wreck all models including Falcon, Laser, Ranger and sell spares.
Contact Us Now
Ford Auto Salvage, Parts & Spares
We are the top choice for Ford wreckers in Newcastle. Your old Ford car, truck, or SUV may be taking up unnecessary space on your property.
Contact our car scrappers and we will come get it. Plus we pay top dollar.
Get rid of your old ford vehicle and get paid in the process. That's what we offer with our ford removal service.
At ABCM Car Removal, we collect old Fords that no longer run, second-hand Fords on their last legs, and other unwanted vehicles. We'll take any car and give you money on the spot.
Once your Ford salvage is on our site we strip it for parts to sell as spares. We make repairing or restoring an old Ford cheaper as you now have access to low cost genuine second-hand parts.
Wherever you are in Newcastle and the surrounding area, you can set up a time and place for us to collect your car or to browse or scrapyard.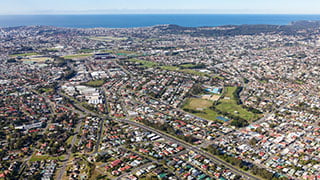 Service Areas
Based in Newcastle, we service all surrounding suburbs and regions including Lake Macquarie, Hunter, Central Coast, Maitland, Cessnock and more.
Get Quote
Sell Your Old Ford to The Wreckers
Along with Ford vehicles, we take all other makes and models. The type of vehicle doesn't matter. We've collected cars, trucks, vans, SUVs, 4WDs, and utes.
The condition doesn't matter either. The windows can be broken, the headlights missing, and the upholstery ripped to shreds. If it has metal and parts, we'll see what we can use and recycle the rest.
Our goal is to make getting rid of old vehicles as convenient as possible for drivers in the Newcastle area. In just three steps, you could have a handful of cash and an empty space where a car used to be.
The first step is to call, email, or text us. Give us the details of your vehicle and we'll get back to you with the best cash offer.
If you accept our offer, we'll come to you to collect the vehicle. You get to choose the time that works for you. We'll send one of our skilled tow truck drivers.
When the driver arrives, you get paid and he or she takes the vehicle. It's really that simple to dispose of an unwanted vehicle and make some money.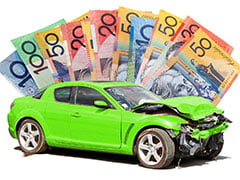 Get Cash for Ford Cars
Convert your unwanted Ford vehicle into cold hard cash. Our car buyers want your car, no matter the condition.
Free Valuation
Now Wrecking All Models
Best of all we pay cash for all Fords to use on our wrecking yard including: Focus, Mondeo, EcoSport, Escape, Endura, Everest, Ranger, Transit, Mustang, Ranger Raptor and more.
As top Ford wreckers in Newcastle we dismantle all vehicles for spare parts and scrap metal.
Based in Newcastle , we serve the entire surrounding region. If you're within range, give us a call to see what models we are wrecking now.
We are always searching for more cars, trucks, and other vehicles. As one of the top auto wreckers in the region, we need a steady supply of spare parts. We dismantle the vehicles we collect for parts and recycle the rest.
You get to keep your vehicle from slowly decaying on your property and you get paid. Along with fast cash for old cars, we provide every customer with the following benefits:
Fully licensed auto wreckers
Any make and model accepted
Fast and easy car removal services
The best offer for your used car
We're ready to pick up your vehicle. Just call, email, or text us the details and we'll give you an offer that other auto wreckers cannot beat. Contact us today to get the best offer for your old car!